Over the past two days the new '5p bag charge' has been in law and I've seen so much nonsense about it. Personally I don't see why it's major news especially cause everyone was expecting it. I am an eco-warrior wannabe myself and have been since I was younger, mainly cause watching some CGI documentary showing the major natural disasters that could happen due to global warming when I was only about 7 or 8 was massively terrifying to me. It's amazing how my anxiety wasn't diagnosed until I was a late teenager! Since a young age I'd always be paranoid and anxious for days on possible outcomes and news stories like that.
People will argue plastic bags are biodegradable and break anyways so there's no use fussing about them – the truth is they don't actually 'biodegrade', they 'photodegrade'. They will degrade from sunlight into smaller and smaller bits making it easier for them to contaminate soil and water. A lot of sea animals accidentally mistake plastic degrade for food and yearly this causes about 100,000 sea animal deaths. Nearly 90% of our ocean's rubbish is plastic. So it really is a problem we are responsible for. I'm sure we'd all rather have our oceans look like those beautiful photoshopped photos we tag as 'goals' on Pinterest and Instagram than a murky, grey barren with Tescos bags floating adrift through the waters.
Obviously I can see people's worries when it comes to trying to drag home something that is oversized, that they could not plan ahead in size. Back when I worked part-time in a Stationer's, I'd always offer people buying printers the massive plastic bags we had, because not everyone's got a bag for life or a canvas bag that size have they? But I also remember thinking it was stupid and absolutely pointless when people expected me to give them a full size bag for a pen? Really? Do you not have pockets, or your handbag or even just stuffing it in your shoe? Also on the note of retail workers – IT'S NOT THE CASHIER'S FAULT THEY ARE CHARGING YOU. I'm on the search for a part-time retailer job at the moment, and I swear if I get one and get hurled abuse for basically obeying the law I tell you what… I will probably go home and blog about it because I don't have guts to argue with strangers. But still, in the great words of Wheaton's law, don't be a d*ck.
Canvas bags are becoming more and more available in shops and you can get some adorable ones that might encourage you to take them out when you go shopping. It's always a good idea to get some, fold them up and stuff them in your handbag when you go out. I guess if you're someone who never goes out with a bag, I can't really help you aside maybe just take a light backpack out if you have money and might possibly buy something. If you fail to prepare and end up 15p wasted on bags from different shops, well I guess can you really complain?
Here are some adorable bags to solve your '5p problem':
This cute and simple London shopper bag from New Look(£4.99) goes with anything and is easily foldable to store in a handbag!
For metallic fans this H&M(£9.99) has a gorgeous, autumnal bronze finish – perfect for storing new clothes in when going out to get your new autumn jumpers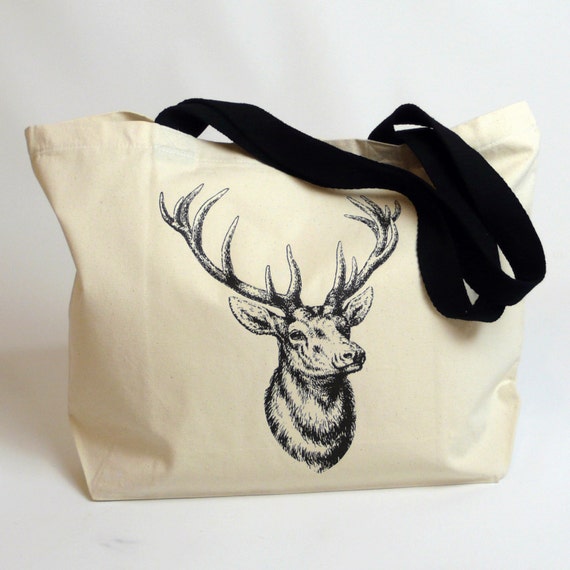 Etsy.co.uk has a glorious selection of different bags with different colours and patterns on, some handmade from independent sellers! This beautiful Stag head one is from an Etsy store called KitschAttic(£14). It's easily foldable but has a generous size perfect for taking on your weekly shop!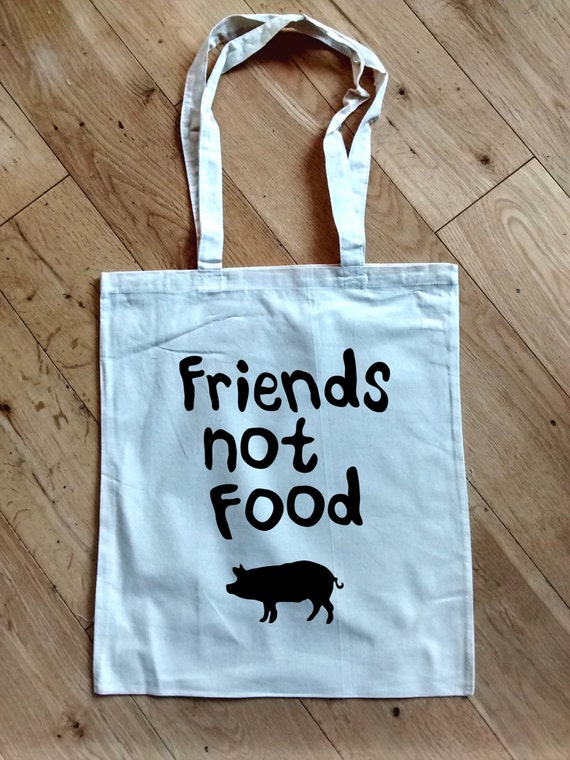 A shopper bag for the vegan/veggie fans here! This bag is from ViolentVegan(£4.99) on Etsy and is great to match with your eco-warrior self. Representing animal rights and refusing plastic waste? Mother earth loves you!
Finally if you know you're a bit of a shopaholic and like to go on shopping sprees where you know you'll be getting new stuff right, left and centre – maybe this Accesorize multipocket shopper bag(£19) is one for you! A little pricier than the rest but it can hold so much more! Perfect for multi-use and absolutely eye-catching!
Is the 5p plastic bag charge the end of the world for you? Or do you have the strength to go out and look awesome with awesome re-usable bags whilst doing rounds at Morrisons and Aldi?
Thanks for reading,
Lenah x x